RA2002 TSO/ISPF and RA2002 Batch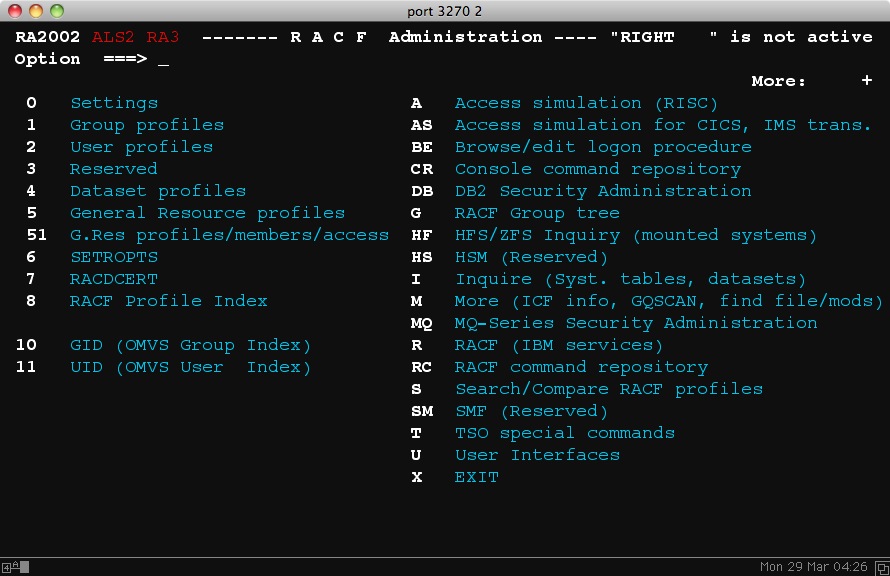 RA2002 is designed to enhance IBM's RACF security system. RA2002 ISPF utilizes the live RACF DB to extract and maintain the security system. RA/2 utilizes an offloaded RACF DB whereby any offloaded data remains always unchanged.




100% use of standard IBM macros and interfaces

No EXITS required e.g. for synchronization

Access simulation

Transaction simulation

Group tree display at various levels

RSSF support

ICF catalog support. This facility supports identification of Alias names, which have no RACF group- or user-ID. For each catalog entry name, the protecting RACF profile can be viewed.

Group profile maintenance

User profile maintenance

Dataset profile maintenance

General Resource profile maintenance. This facility allows extraction of multiple classes.

SETROPTS maintenance

UADS support

BROADCAST support

Profile cloning support

Extended Search facility for group- and user profiles

RACLISTed profile support to list true access per user-Id. In addition two user-Ids can be compared.

Standalone Helpdesk facility

Password verification facility

Hard revoke- and resume facility

System utilities (GQSCAN, Online DASD etc.)

Password synchronization (batch tool)

Find 'ALL' weak passwords (batch tool)

Compare RACF profiles online!

CONNECT, RESUME, REVOKE, REMOVE connects with a single TSO RA2002 command

REMOVE all connects and change default group

RESUME, connect and change default group based on a model user-ID

Profile compare on the fly

DB2 RACF support - (optional feature)

MQSeries RACF support - (optional feature)

HFS RACF support

HFS mapping (USS tree)

Transaction simulation

CA/1 support

RMM support

Find all user- or group IDS not present in any dataset or general resource profile (overall statistics are provided) – refer to DEB$VG01

RACF profile 'rules' checking

RACF password 'rules' checking

ACL (access control list) support

RRE (RACF Rules Enforcer) - optional feature) verify RACF settings for datasets and SETROPTS, SSN, SVC, PPT, IKJTSOxx, OMVS

Create a delta between a set of userids. This allows to check if they all have the same attributes.

And much more. For the latest release always check the web pages

www@racfra2.com

as we constantly enhance the products.